"Not My Family, Never My Child"
---
A practical handbook for anyone who suspects (or knows) someone they care about is a drug user.


Drawing on the tragic loss of his son to a heroin overdose and his experience working as a counsellor, Tony Trimingham cuts through the hype to address the real issues facing the families and friends of anyone struggling with drug problems.

Filled with constructive suggestions and strategies, Not My Family, Never My Child provides support, advice and guidance to the parents, siblings and loved ones of drug users – and the users themselves – as they make their way through the difficult journey of drug dependency. It includes detailed information on: warning signs, early intervention, coping and survival strategies, treatment, and where to go for additional advice and support.
Drawing on real stories to illustrate the challenges – and the successes – that can and do arise, Not My Family, Never My Child is an invaluable tool that will help families and friends get through this time in their loved one's life.
---
BUY TONY'S BOOK:
---
Listen to audio of Radio 2GB's Alan Jones' 'on air' discussion with Tony about the book.
---
Extract from "Not My Family, Never My Child"

"Grief has a way of making you feel that you are the only one suffering, but I soon realised that what had been such a shocking death for me and my family was far from an isolated incident. All over Australia, other fathers, other mothers, other brothers and other sisters were feeling that pain ...".
---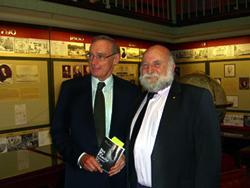 Tony with Bob Carr at the book launch.